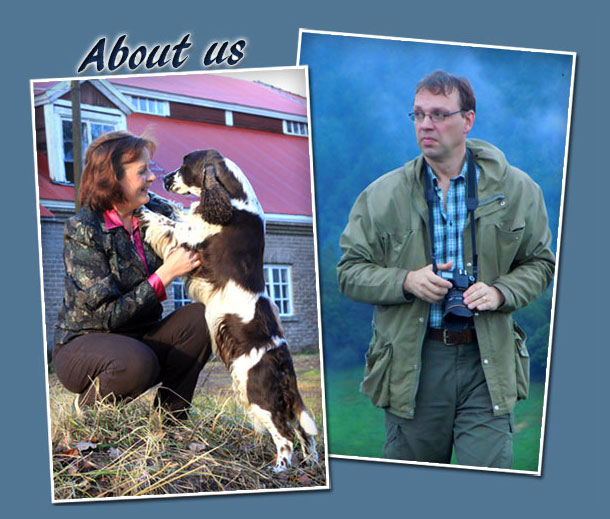 Tarja & Mikko Hovila
Mustjoentie 51
31400 Somero
FINLAND

puh: + 358 440 775 914
email: tarja.a.hovila @ gmail.com
http://www.adamants.com
We are living at lovely countryside in southern Finland, in a small town called Somero. I myself moved to Somero permanently 1986, after I had finished my medicine studies at Tampere University. I work as an occupational health physician in Suomen Terveystalo. My husband Mikko is master of agriculture and he has entertained farming at our lovely Mustjoki farm, which was established already 1930. Veera, our daughter and our son Lauri are aready adults they too. Lauri loves football, Manchester United of course. Veera used to be our main dog trainer keeping dogs in order and healthy and happy by giving them a lot of excercise, lessons of obedience, agility, blood tracking etc. Veera is now soon to be a vetenarian, she is studying at Helsinki University Veterinary department for 5. year. You can read about Veera more on her own pages "Siiri ja karvamakkarat". Lauri has studied agriculture in Mustiala and is going to take care of our farm in the future.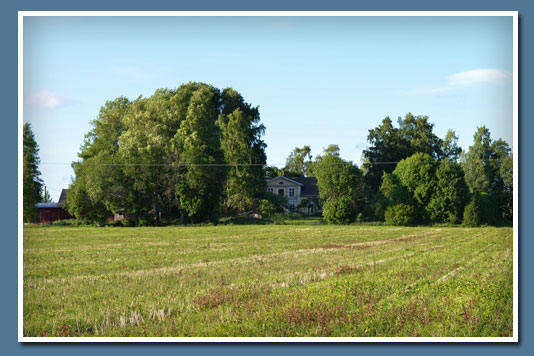 Another important hobby for me and Mikko is dancing. We enjoy a lot of dancing every now and
then when time allows, ballroom dances like Viennese waltz, slow waltz, fox-trot, tango, jive,
twist, samba, rumba, cha-cha. So at least as dancing I dont plan any dog things in my mind...
good relaxing from demanding hobby!

Mikko loves to spend a lot of time in nature, particularly in forests and his hobby is to take
beautiful photographs of nature and it's animals. He has studied as a hobby Estonian language
and we travel a couple of times a year to Estonia and walk in beautiful nature parks there.

Breeding dogs is not only a hobby but it is a life style of some kind. Dogs have been a part of my
life since 1972 and dog breeding nearly as long. Dog breeding has given us a lot of friends, even
all over the world. I have never had more than 5-7 dogs at home, so they have all been family
members as well. We dont have any kennel buildings, but they are living with us taking part of our every day life. During last years we have renovated our big house room by room and now we also have renovated two puppy- and dog / grooming rooms beside our kitchen. About my breeding history you can read from History pages.

Main purpose in my breeding work is to produce such English Springers, which fill well the
requirements of breed standard and are capable to do their original work as hunting dogs too.
They should have correct temperaments of the breed and be sound and healthy. To gain success
in main aims needs not less than all life time learning more about the breed and essential things
in it. During all htese years I have bred more than 100 Champions, which means that more than
every 4. Adamant's Springer is a Champion.

During these 38 years of breeding Springers I have bred so far only about 1-2 litter per year.
Every litter born under Adamant's prefix has been very carefully conceived and so I have
managed to keep my own line since I begun. I am at the moment breeding 9. generation of my
own and those generations are champions all through. We are particularly happy, that our bred
Springers usually have had also the great working abilities of the breed. We have bred many dual
Champions and even 2 Triple Champions, of which the latest is Finnish Field & Tracking & Show
Champion Adamant's Express Pride. So our original dream about breeding such springers who
are not only beautiful but have those wonderful abilities of this breed to work on different fields is
still going on.

Highest awards along the long way as a breeder have been Kennel Club's Top Breeder all
breeds in Finand 2010 and 2011, Kennel Club's "Vuolasvirta prize" for meritorous breeding work.
Will mention also the Scandinavian record holder ESS in shows: Multi Champion Multi Winner
Adamant's Superman, who was 2 x Runner Up Top Show dog all breeds in Finland,
Top Veteran # 3 All breeds in Finland and also #3. Top Show Dog all breeds in Finland. He amazingly won 74 Group-1, 60 BIS placements, 124 BOB wins..records hard to break for this breed in Scandinavia.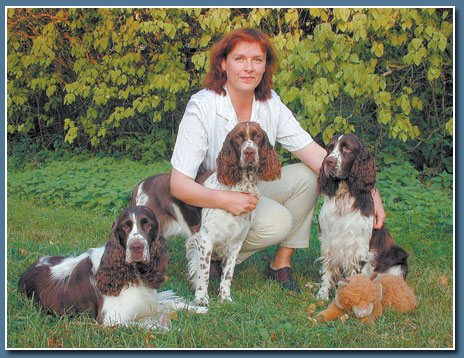 picture from beginning of 2000
dogs: Adamants Superman, Adamant's Dreams Are Free and Rowntree Pure Chocolate.

1999 I got my judging licence for own breed, and after that I have got rights to judge all
FCI group 8, and most of FCI group 7 too. I have been judging in many other countries too, for excample Sweden, Norway, Denmark, Estonia, Ireland, Great Britain, USA, Australia, Chech, Germany.

Success is though only icing of cake, when the best moments as a breeder come may be when
we get messages from Adamant's ESS owners, how happy they are with their dogs in their daily
life and many kinds of hobbies, shows included. Especially happy we are if we notice that
Adamant's ESS have had some good impact to the breed in their new home countries.